Car rental in Figari

Unlimited kilometers

Serenity insurance

Secured booking

Partner of the biggest rental companies
Visit Porto-Vecchio by car Rent a car in Figari Airport to discover the South of Corsica, between Bonifacio, Porto-Vecchio and Bavella mountains.
Our office at Figari Airport is perfect for travelers wishing to pick up their vehicle as soon as they arrive.
Figari is the ideal base from which to explore the picturesque and atmospheric towns of Porto-Vecchio and Bonifacio.
More generally, the small town is a getaway to the southwest coast of Corsica with its numerous stunning beaches. Visitors who venture inland will have a chance to see the spectacular Col de Bavella, with its amazing views over the extensive forest.
All in all, you can't do without a car if you plan to stay here!
Our car hire agency is open 7 days a week to provide flexibility to our customers.
Car rental at Figari Airport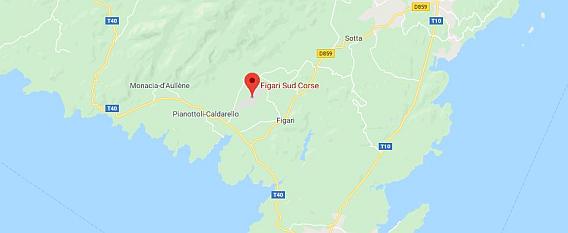 The agency is located at the airport for you to be able to pick-up your car rental as you arrive in Corsica.
Figari Sud Corse Airport
20114 Figari, South Corsica
From November 1st 2022 to November 13th 2022
Monday to Sunday from 8am to 6pm
Annual closure from November 14th 2022 to April 2nd 2023
From April 3rd 2023
Monday to Sunday from 7am to 8pm
Itinerary to the agency
Car Parks in Porto-Vecchio
Corsica Car Rental has listed for you the parking lots in Porto-Vecchio, do not look for a place for hours, click on the link below to find the areas dedicated to parking!
Parking Area in Porto-Vecchio
Parking in Porto-Vecchio
The city of Porto-Vecchio has set up several parking zones with different rates. Low season : Green zone: 15mn - 0.20€ / 1h - 0.80€ | Orange zone: 15mn - 0.30€ / 1h - 1.20€ | Red zone: 15mn - 0.50€ / 1h - 2€ / 2h | High season: Green zone: 15mn - 0.30€ / 1h - 1.20€ | Orange zone: 15mn - 0.50€ / 1h - 2€ | Red zone: 15mn - 0.80€ / 1h - 3.20€ / 2h |
Service station in Porto-Vecchio
The team of Corsican Car Rental has listed for you all the gas stations around Porto-Vecchio, Figari and Bonifacio.
Gas Stations in Figari
Visit the far south of Corsica

Visit Porto-Vecchio by car
The city of Porto-Vecchio is only 40 minutes away from Figari Sud Corse airport. This city is very famous in Corsica : paradisiac beaches, and great entertainments has made it an unmissable spot. Among the beaches to be visited, you will find Santa Giulia, Palombaggia, Cala rossa, and also Saint Cyprien. Hidden treasures of nature, that you will be able to enjoy during your holidays ! If you are looking for farniente, or at the contrary, for sports activities, Porto-Vecchio welcomes everyone. The beautiful beaches will welcome you for a relaxing day. And if you are looking for sports activities, you will be able to hike in the maquis, or enjoy sea sports like water skiing. Our tip: an helicopter tour to enjoy the view from the sky !

Visit Bonifacio by car
The city is simply to be seen if you are visiting the south of Corsica. The citadel, the steps of the Roy d'Aragon, and the coves are stunning sites. The white cliffs have given to Bonifacio the surname of "picturesque capital" of Corsica. The city is amazing as it is built on the cliffs : the best way to discover Bonifacio is probably by boat, as it reveals the beauty of the cliffs, and the very unusual architecture of the city. From Bonifacio, you can also discover the Lavezzi Islands : composed of many little islands, this site is a protected natural riserve. Many sea cruises are proposed to visit the islands, departing from Bonifacio. Finally, if you are a watersport lover, don't miss the beaches of Piantarella, Tonnara, Maora, Rondinara, or Balistra. Discover the area around Figari by car